Evans Collectors Choice – Waterless Coolant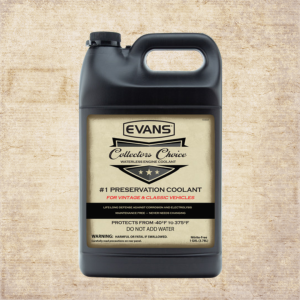 Evans Cooling Systems, Inc. the exclusive developer of waterless coolants, is pleased to announce the latest addition to its line of patented waterless coolant products, Collectors Choice, designed to enhance preservation of priceless classic and vintage vehicles.
As used by Museums and Collectors such as Jay Leno's Garage, the American Muscle Car Museum, and the Simeone Foundation, Evans unique formulation avoids the problems associated with water such as corrosion, electrolysis, vapor pressure, and boil-over. Water in the cooling system causes metal degradation of the cooling system, usually from the inside out, which leads to expensive repairs or replacement of radiators, pumps, thermostats, seals, and gaskets. Evans Collectors Choice puts a permanent end to those water-caused problems.
Benefits of Collectors Choice Coolant
Eliminate Corrosion: Water is the root cause of corrosion in engines, eating away pumps, radiators, liners, etc. By removing water from the cooling components, Evans eliminates water-caused corrosion in your cooling systems.
No Electrolysis: Coolant that is 50% water has an electrical conductivity of about 3000 μS/cm. In contrast, Evans waterless coolants typically measure just 700 μS/cm. The substantially reduced electrical conductivity of the Evans coolant sharply reduces incidents of electrolysis.
No Erosion: Evan under extreme conditions, Evans coolants remain in liquid form and do not vaporize, preventing the pitting caused by water vapor.
Freeze Protection: Evans coolants do not have natural antifreeze properties down to -40°F and will not solidify or expand, providing protection from freeze bursts.
Extended Lifecycle: Evans coolants do not degrade and are designed to provide an extended service, in many cases resulting in a lifetime fill.
To learn more about Evans Coolants visit https://www.evanscoolant.com/or call 1-888-990-2665 to speak to an Evan Tech Specialist directly.
Evans In Support of CCCA – Northeast Chapter: Members will receive a 15% product discount + free shipping on all Evans product. Additionally, $5 from every bottle purchased will be donated directly to the club.